Regels van het hotel
Door een reservering te maken gaat u akkoord met de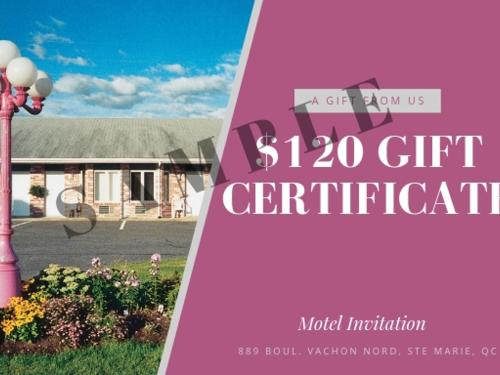 GIFT CERTIFICATE TERMS AND CONDITIONS
Motel Invitation Gift Certificates in Canadian Dollars are issued by and are the property of Motel Invitation ( whose registered office is at 889 boul. Vachon Nord, Ste-Marie, QC G6E 1M3 ("Motel Invitation").
Motel Invitation Gift Certificates are sold subject to these Terms and Conditions and by purchasing an Motel Invitation Gift Certificate you will be deemed to have read and accepted these Terms and Conditions.
Motel Invitation Gift Certificates are issued for redemption in exchange for the provision of either (a) any accommodation, services or benefits equivalent in value to its full face value or (b) upgrade from a standard room to a luxury room by paying any difference in pricing as described on www.motelinvitation.com and they, or any combination of them, are referred to in these terms and conditions as "the benefits".
Motel Invitation Gift Certificates are purchased directly from Motel Invitation over the phone or in person and the terms and conditions applicable to the use of that web-site, including the Motel Invitation privacy policy, will apply. Payment can be made to Motel Invitation by either Interact, Credit Card, E-Transfer or cash. If payment is made before 5PM EST, the Motel Invitation Gift Certificate can be issued or dispatched same day. Motel Invitation Gift Certificates may be cancelled after issue if any information supplied at the time of purchase is untrue or inaccurate, or if payment is declined or incorrect cardholder details and/or billing information have been supplied. Unauthorized resale will invalidate this certificate.
Each Motel Invitation Gift Certificate features a unique reference code and date stamp and:
Gift certificates may only be used for whole or part payment for room bookings at the time of redeeming the gift voucher.
Gift certificates are redeemable subject to availability at the discretion of Motel Invitation.
Its redemption will be subject to the availability of the benefits at Motel Invitation hotels which are offered at the discretion of Motel Invitation.
All room bookings exchanged for Gift Certificates must be pre-booked by telephone, SMS Text Message, or email. The Gift Certificate(s) must be presented upon check-in at the hotel prior to any services being used.
Gift Certificates may not be exchanged wholly or partly for cash [nor will any change be given].
Gift Certificates are valid for 12 months from the date of issue and may not be redeemed beyond that period.
We cannot accept responsibility for the loss or theft of Gift Certificates. Gift Certificates are not replaceable if lost, damaged, stolen or expired and are void if altered, photocopied or reproduced.
Your use of Gift Certificates for exchanging accommodation may be subject to room availability, room regulations, restrictions and applicable taxes of the respective period.
If your use of Gift Certificates raises any tax liability on you, including disclosure, then such liability is your sole responsibility.
Gift Certificates are only valid when displaying a registered QR Code and date stamp.
Motel Invitation will require a credit card deposit when taking a booking for accommodation.
Motel Invitation reserves the right not to accept damaged or defaced certificates.
MUST be redeemed once for its full face value within its period of validity at an Motel Invitation in exchange for the benefits.
In the event that the value of the Motel Invitation Gift Certificate does not cover the full cost of the accommodation, food, beverages or other services provided by the Motel Invitation then the balance must be paid by the redeemer of the Motel Invitation Gift Certificate to the Motel Invitation in cash or by valid debit/credit card and the Motel Invitation may require a valid debit/credit card deposit for such costs when accepting a reservation or redeeming the Motel Invitation Gift Certificate.
The Gift Certificate does not cover tips or gratuities for room services.
If issued in a currency other than the official currency of the Motel Invitation hotel at which it is redeemed then it will be converted at full face value into the official currency of the redeeming Motel Invitation at the prevailing foreign exchange rate then offered by that Motel Invitation.
Motel Invitation reserves the right to change these terms and conditions without notice.
SHIPPING OF GIFT CARDS
We offer online gift certificates, which you can print out at home.
Online gift certificates: Most electronic gift certificates are delivered instantly to your email, however processing may take up to 24 hours for additional verification.
If you require a Physical Gift Certificate: Please indicate with your order and provide your physical address and we gladly send it out to you. Packaging and shipping to domestic addresses are $5.00 (tax included). Your gift certificate will be delivered via Canada Post to your shipping address in 3-7 business days.
◊ BONUS: Physical Gift Certificates come with a postcard to write personalized messages
◊*Buyers are responsible for entering their correct billing and shipping address and will be held liable for any misrepresentation of shipment
information and related fees*